French words of the day: Printemps et embouteillages
#PARISFOMO and other stories from France
Printemps! Or rather, springtime in France, what could be better! The clouds are drifting away, the covid cases are falling and the streets are filled with foreign visitors again, after 2 years of restrictions.
It was French school holidays again (let's face it, when is it not school holidays?) So we've been in the south of France visiting family and doing mildly touristy things, while eating and drinking rosé in the (almost) summer sun.
Now, it may sound like all fun and games, but there is one big problem: the traffic. All that demand has led to what seems like a huge increase in vehicles on the road, which gets worse around the holidays.
Usually, everybody hits the road at the same time, so you have this mad rush of traffic leaving Paris and usually heading south on the "Autoroute de Soleil", meaning "highway of the sun". (The train going down south is sadly is not called "voies ferrées de soleil", so we can all just ignore that as an idea.)
If you do decide to go on a roadtrip around France, holidaymakers are advised to check online or download a digital app called "bison futé" that advises when they are going to be stuck in traffic, aka "les embouteillages". Stampeding bison, headed this way!

Prévision
#BisonFuté
: circulation très difficile dans toute la France vendredi. Soyez prudents sur la route ce week-end et suivez les prévisions en temps réel sur l'app Bison futé ou ici :
bit.ly/3M1b3o4
Pour votre sécurité, pensez à faire une pause toutes les 2 heures.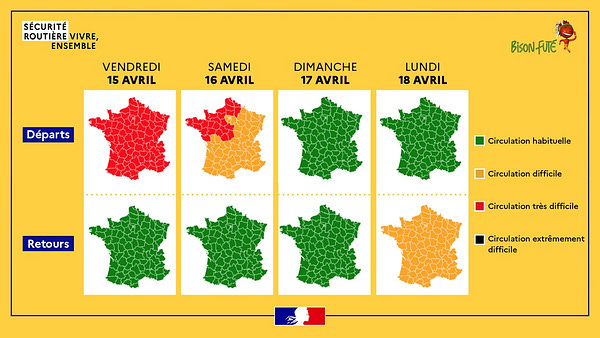 (Yes, Bison futé needs to change their logo. Indigenous civil sensibilities has not yet arrived in France.)
Adding to the road traffic, you also have holidayers from Belgium, Switzerland and Netherlands who also have holidays at the same time, leading to even more chaos.
So all this to say, the only way to beat the rush is to leave on holiday a couple of days late and return a couple of days early, in exchange for doing laundry. A far cry from my old North American habits of heading on the road on a Friday night and returning on Sunday evening.
Am I getting old or getting wiser? Or perhaps just grumpier!
In other news:
We haven't forgotten the post-election hullabaloo entirely: winning President Macron has decided to change the name of his party from LREM to Renaissance. (In case you were wondering, LREM stands for "La République en marche" with the EM at the end basically being Macron's initials. Jupitarian, indeed.

French soap opera fans are very sad as after 18 years on TV, France Television will no longer produce the series "Plus Belle la vie", meaning "most beautiful life".

The series follows the daily lives of the residents of a fictional neighbourhood in the Mediterranean city of Marseille. It may be on Amazon Prime or Apple iTunes if you want to check it out, but that may depend on what country you are in.

A wolf has been spotted for the 1st time in a century in Bretagne (Brittany) which is very exciting news for conservationists and children's storybook authors.

Let's all admire the audacity of a bunch of burglars who decided to conduct a heist at Chanel in Place Vendome in Paris broad daylight a few days ago, along with the wherewith-all of the passerby who recorded it on his smartphone:
No word yet on what was stolen or any leads on who these guys were. (In case you are wondering, this is one of Paris's premier shopping districts, with the swanky palace, the Ritz hotel next door along with several high-end jewellery shops in the area.)
And new in the blog:
---
6th arrondissement of Paris: What to see, eat, and do
Explore the 6th arrondissement of Paris, including the guide to its top attractions, bars, restaurants, accommodation, and more.
Henri IV of France: 27 Facts and history
Get to know Henri IV of France and Navarre, a man who became known as Good King Henry. From his family, his love life, his exploits and more.
Alsatian Flammekueche (Recipe)
Get the classic recipe for the Alsatian flammekueche (German flammekuchen) that the locals like to prepare. With accompaniments, drinks, and more.